/ L'Équipeur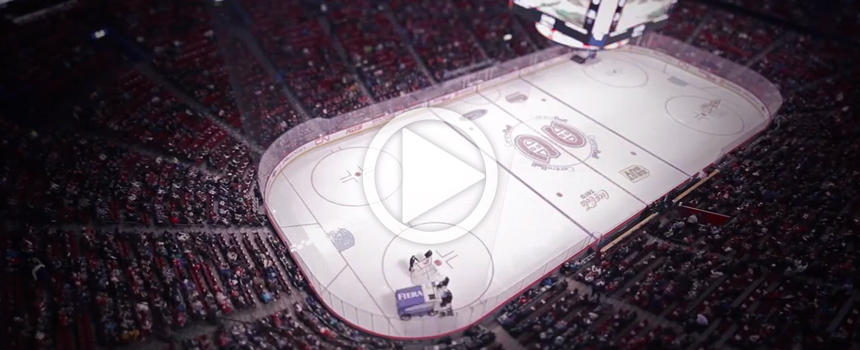 Launching L'Équipeur's Club TLBV
Challenge: To develop a launch campaign for L'Équipeur's Club TLBV.
Solution: To further an already on-going relationship with Les Grandes Étoiles du Hockey team, L'Équipeur and Club TLBV became the principal sponsor for the main hockey event at the Bell Centre. This included an online social media campaign, real life activations at the Bell Centre and a media buying partnership with Astral Media.
Results: L'Équipeur and Club TLBV got a priceless association with some of the greatest hockey legends in the NHL, 12,000 people attended the event and over 1,000,000 people were exposed to the advertising pieces where Club TLBV was mentioned as a principal sponsor of the event (TV, Radio, Online).
/ Mark's
L'Équipeur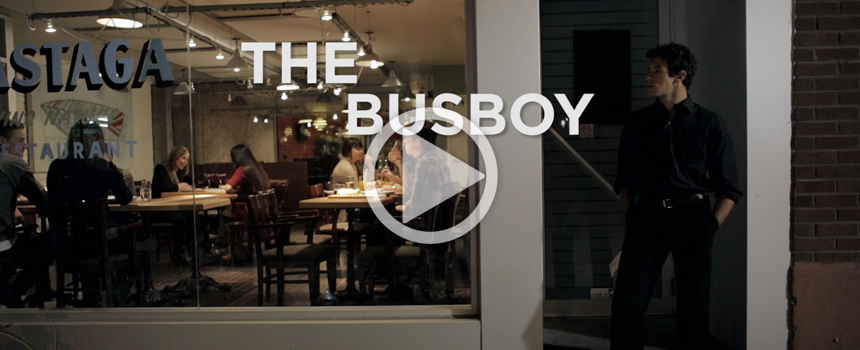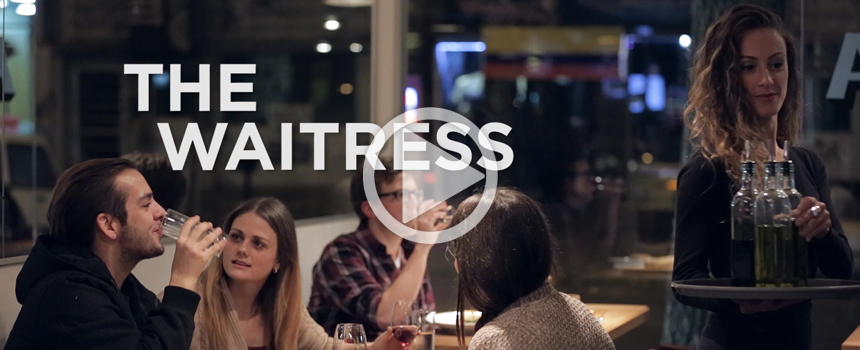 Tarantula Anti‑Slip with J‑Step technology for Mark's
Challenge: To communicate and increase awareness about the new technology in an anti-slip shoe directed towards a younger audience that work in the restaurant industry. The campaign should be targeted to a demographic that is not typically a Mark's client. Mandate included showing technical aspect of the shoe, but with humor for the younger audience.
Solution: A series of 2 videos that feature young restaurant workers "slipping up, but not slipping" as they perform typical tasks in a restaurant. The video also had a short demo explaining the technology behind the shoe. This was coupled with a Facebook contest that lasted 5 weeks.
Results: Over 50,000 YouTube views, 5,000 Facebook likes and 1,000s of engaged users online. It also served as a launch for our Club TLBV where we managed to get 1000s of new members through an activation contest on site.
/ L'Équipeur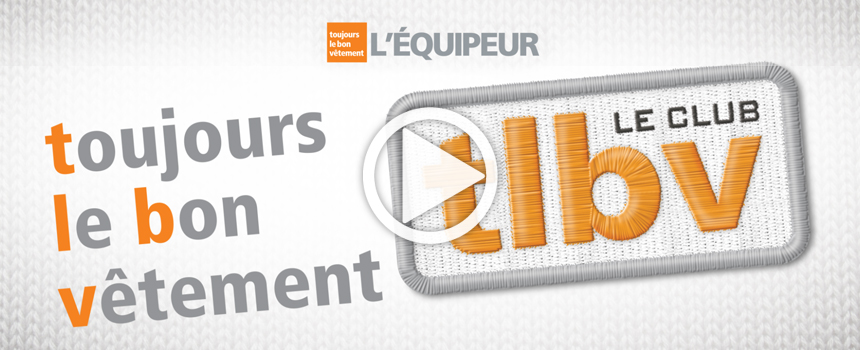 L'Équipeur's Club TLBV
Challenge: Less and less people are reading the print flyers that L'Équipeur produce. Is it possible to decrease the number of printed flyers and make a more relevant digital version?
Solution: We created a loyalty program that offers special promotions and an online flyer that can customize features based on the end user's preferences. Essentially we're delivering what someone needs to see and when they need to see it through this club.
Results: Our Club TLBV membership is growing everyday.
/ Mark's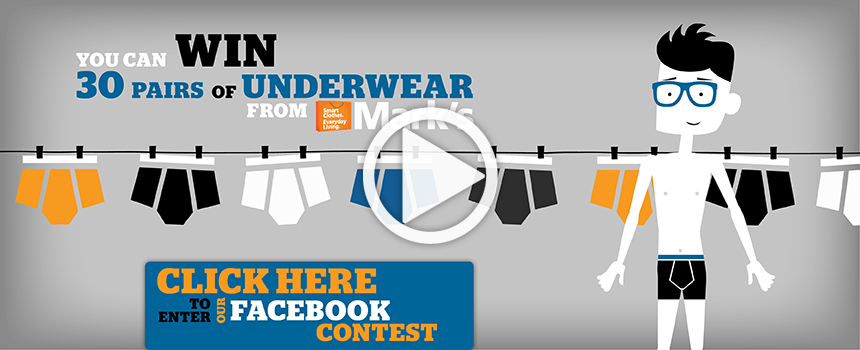 Mark's Facebook Page
Challenge: How do we get more Facebook likes?
Solution: We synced a scheduled underwear marketing initiative with a creative idea about telling men to "update" their underwear. We developed a video and an online contest which drove fans to their Facebook page.
Results: With strategic Facebook marketing and media buying, we were able to attain 10,000 new likes to the Mark's page in less than 16 days.
/ Just For Laughs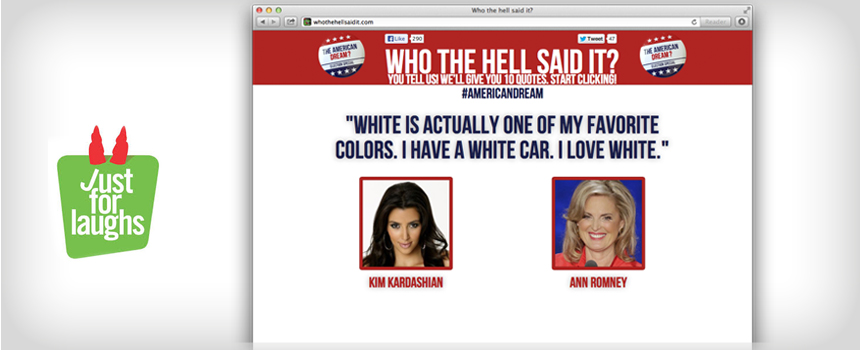 Bring Awareness to a TV show about American politics
Challenge: How do we bring attention online to a TV show about American Politics that was airing on CBC? A show which Just For Laughs created.
Solution: We developed a game based website called "Who The Hell Said It?". A game that asked a user to determine who said a particular quote taken out of context. It was either between a politician or a pop culture celebrity.
Results: It was featured on several news websites and a high level of engagement was delivered around the concept for the show at a low and efficient cost.
/ Guru Cycles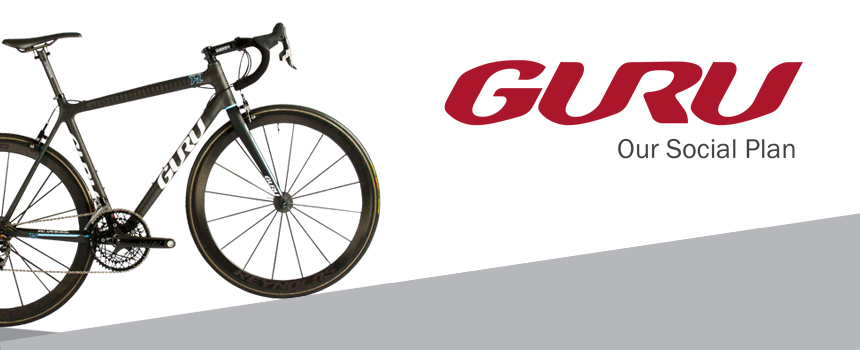 Increasing Guru's social media presence
Challenge: How to talk about the brand online via social media.
Solution: We developed a social media campaign with steps, media spend and strategy. We assisted Guru Cycles to manage their own voice over social media instead of us doing it for them.
Results: Guru Cycles went from minimal online presence to having and being able to maintain a Facebook, Twitter, Instagram and a blog effectively with excellent community engagement with 1000s of followers.